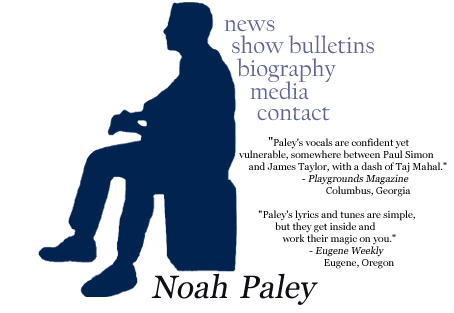 You can now purchase Noah's albums on iTunes!

Noah's third CD, "Better Days," is out now
UPDATE: Visit Noah's Myspace page to listen to clips and for the most recent show dates!

This release comes after months of singles airplay on stations across the country and globe. Here's what one DJ had to say: "A real treasure trove of great songs," and "Comparing artists may be out of favour, but if you haven't heard Noah, try imagining David Wilcox and James Taylor writing songs for Al Jarreaux to sing. Then again, don't do that; just listen to Noah's latest offering. It'll definitely make today one of your 'Better Days.'" -- Phil Young – 'Folk On The Fringe,' 3MDR, Melbourne, Australia.
"His music was engaging, his vocals top-notch, and his guitar-playing and musicianship were nonpareil. As an acoustic singer-songwriter, he easily transcended the "folk" genre; what he played and sang was much closer to jazz, with sophisticated song structures fluently expressed. One of the finest performances of the year at the Forum."--Outer Banks Sentinel (Nags Head, North Carolina)